During restoration we decided to update the drive line with a motor and transmission from a 2004 GTO. This is an LS1 with a L460E tranmission. We installed a complete AC system from VINTAGE AIR™. We also went with SSBC disk brake setup, front and back. We converted all windows to electric. We lowered the car by two inches. Also bought steering box, springs and shackles from Detroit Speed. A lot of accessories came from Year-One.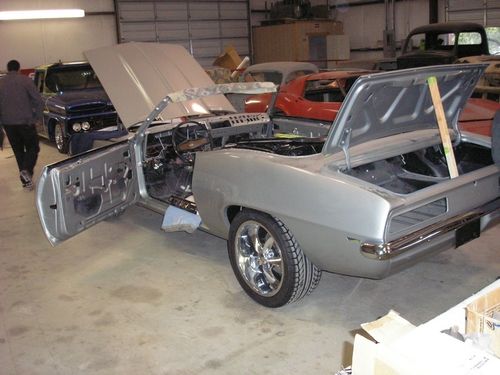 1 of 39
2 of 39
Finishing up some dash work, only thing left is the glove box door. But the Chip Foose custom steering wheel looks great attached to the Flaming River tilt column in front of the carbon fiber dash insert auto-meter gauges. Installed a brand new dash pad from OEM Auto Products. Old school Houndstooth seat covers and the center console from the 2002 Z28 Camaro fits like a glove. Emergency break lever works like a new car.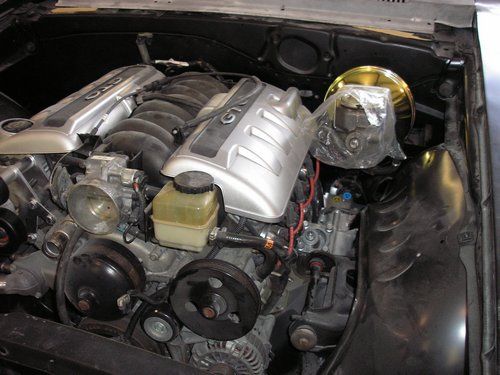 3 of 39
4 of 39
Doing a little sanding and panel fitting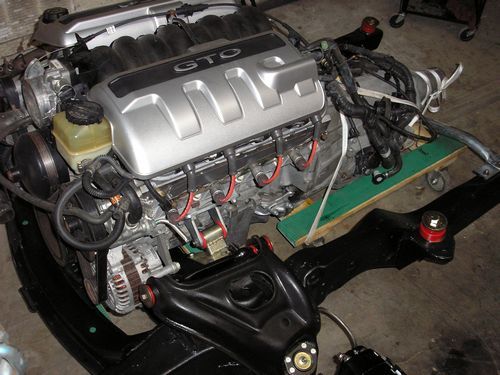 5 of 39
Here's a nice look at the BRP Muscle Car motor mounts
6 of 39
Here you can see the Detroit Speed steering box and the BRP Muscle Car headers.
7 of 39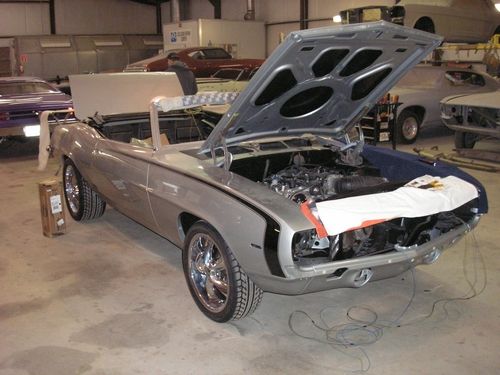 8 of 39
Working on the front grill and electric headlight conversions.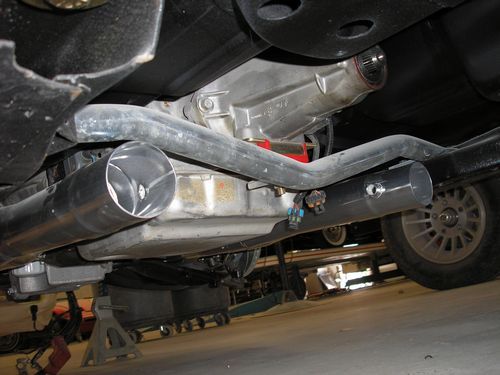 9 of 39
Transmission crossmember for the 4L60E and neoprene transmission mount, came in a kit with the motor mounts for the LS1 conversion
10 of 39
All done with the electric hideaway headlight conversion. A lot of work, it tested me, but well worth it in the end
11 of 39
Wow, the cowl induction hood looks great! Fits perfectly.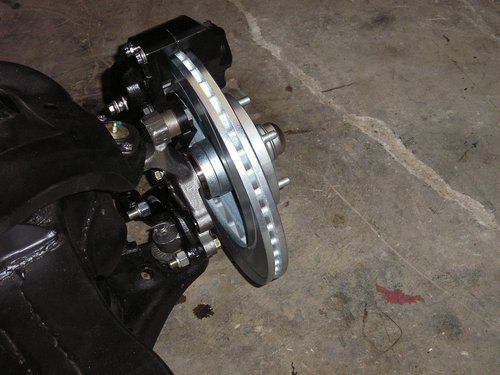 12 of 39
Disc brake conversion from SSBC came out nice and looking awesome. 2 inch drop spindles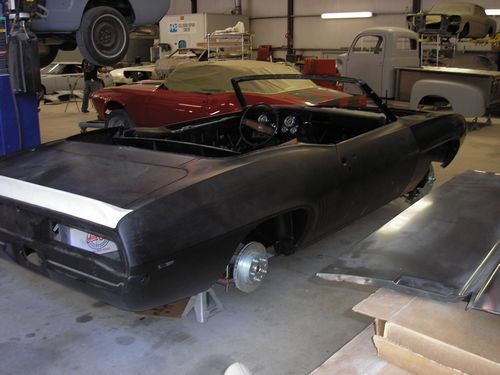 13 of 39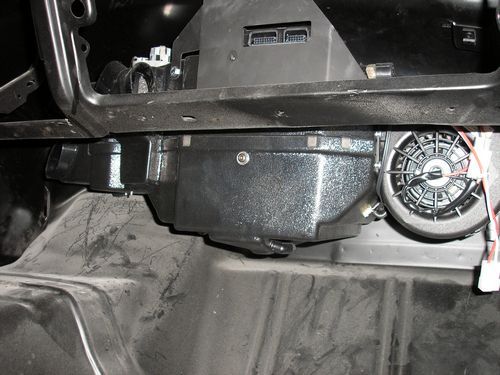 14 of 39
Doing some light fabrication to get the Vintage Air gen 4 A/C box mounted in the dash
15 of 39
Installed all suspension components, Stainless Steel Brake components, four wheel disc brakes
16 of 39
Master cylinder and brake booster comes with disc brake kit from SSBC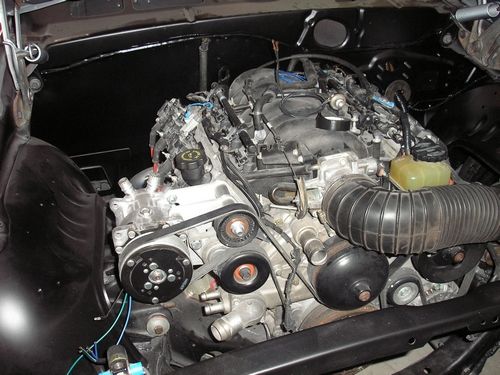 17 of 39
Here's a good picture of the LS1 conversion motor going into a '69 Camaro. Instead of notching the frame, we chose to get a relocation bracket for the Vintage Air A/C compressor. The bracket is from Quick Performance.
18 of 39
At the body shop getting ready for paint
19 of 39
Car looks great in the driveway, just finished washing it. Chip Foose legend wheels, 18s rear, 17s front, perfect fit
20 of 39
GM10 bolt differential. Installed a Yukon posi 3rd member, also installed Moser axles, Richmond 373 gears, and the differential cover from Nogalitos Gear. Painted and installed with Detroit Speed springs and 2 inch drop shackles
21 of 39
Mocking up body parts and checking the grill for fitment. The car comes primered and ready for paint from Dynacorn; very little body work necessary.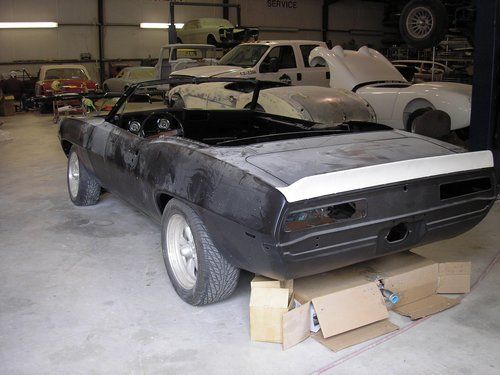 22 of 39
Installing rear spoiler on deck lid.
23 of 39
Another look at the A/C compressor with the relocation bracket from Quick Performance
24 of 39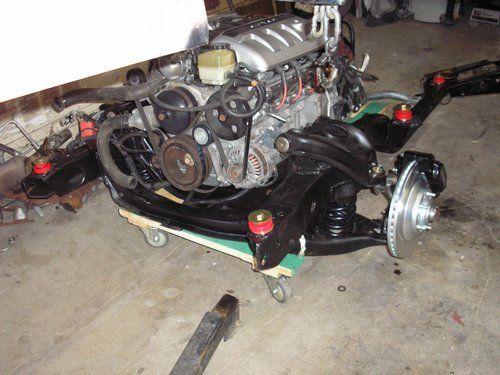 25 of 39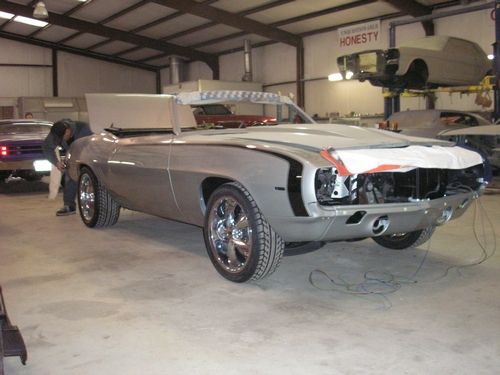 26 of 39
27 of 39
Couldn't get rid of the Pontiac GTO covers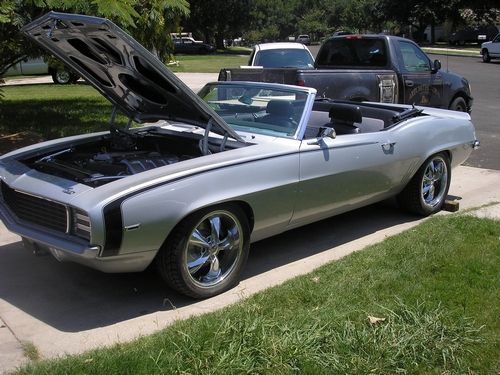 28 of 39
'69 Camaro convertible Dynacorn body, completed in 2008, nice silver with a hockey stick decal
29 of 39
30 of 39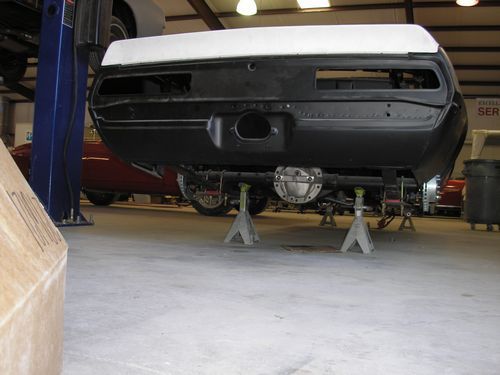 31 of 39
32 of 39
BRP Muscle Car headers, ceramic coated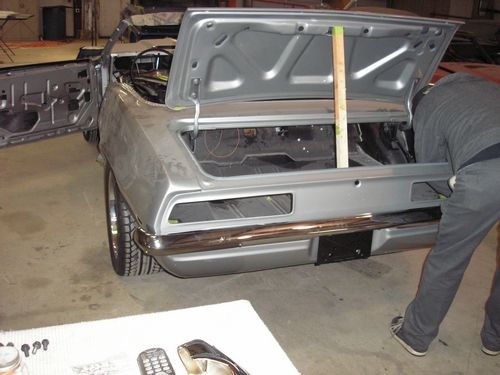 33 of 39
Finished up installing the rear bumper, now on to the custom tail lights
34 of 39
The motor and trans mounted on the subframe with new body mounts ready to go back into the car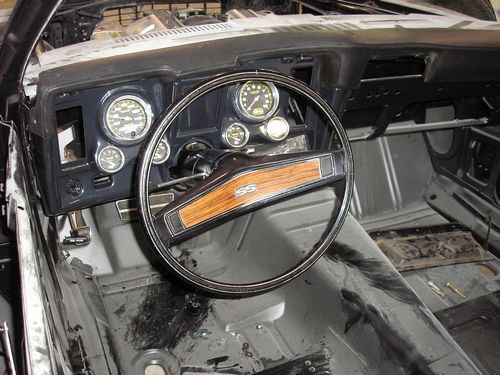 35 of 39
Installing the carbon fiber dash insert with Autometer gauges
36 of 39
In the body shop adding on some final trim pieces
37 of 39
In the process of installing American Autowire complete electrical harness, 21 pin updated fuse box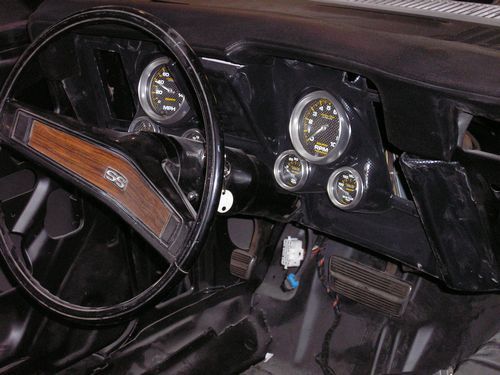 38 of 39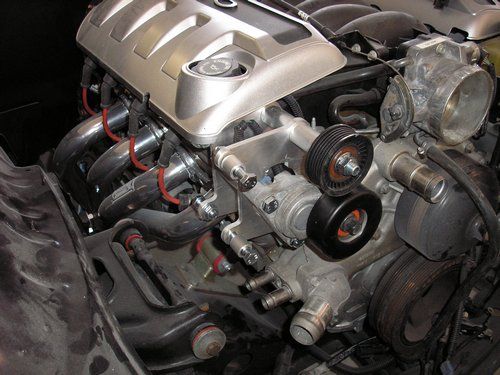 39 of 39